How is a destination wedding? Best places to get married abroad. Today is more often getting married abroad, for a long time, getting married outside was mostly associated with beach weddings. And while a sunny celebration on the golden sand is still a popular choice — and rightfully so — couples are now choosing a wide variety of locations for their overseas weddings.
From vibrant cities to peaceful countryside, many places in Europe and the rest of the world are perfect for destination weddings. Some couples choose a place they've already visited and fallen in love with; others use marriage abroad as an opportunity to discover a new country or region.
Unless you know your chosen location well or have friends and family there, seriously consider using a wedding planner. If you can't make regular visits and meet suppliers in person, their local knowledge can be essential – and can even save you money in the long run. They can also help with any language barriers.
First and foremost, an abroad wedding is about choosing a location you love. For you to feel inspired, we've rounded up the most beautiful places in the world for a destination wedding.
Top 10 best places to get married abroad in 2022
1 – PORTUGAL
Lisbon
Portugal's capital is a wonderful place for a city break, with beautiful architecture, a vibrant food scene and plenty of places to explore. There are even beaches within easy reach. These elements also make it a great venue for a destination wedding in the city. One thing to keep in mind, however, is that some of the streets are very steep – if you have fewer mobile relatives, they will need to travel by taxi or public transport.
When to get married: March-May and September-October
Wedding Venue Ideas: The Marqueses de Fronteira Palace is magnificent inside and out, with opulent period features and large gardens. For something a little different, try the atmospheric Patio Alfacinha, which has a variety of wedding-worthy spaces. The Four Seasons Ritz is a good luxury option.
Madeira Island
The island of Madeira is also a good place to get married. Here you can find 10 reasons to get married on Madeira Island.
2 – ITALY
Costa Amalfitana
Italian weddings are known for spectacular food and wine, so this is the country to choose if that's your priority. What gives Italy's Amalfi Coast extra wedding appeal is the fact that it's a bucket-list destination, with spectacular scenery for miles around, as towering cliffs meet shimmering seas. There are beautiful cities to visit, beaches to relax – and, of course, plenty of pasta to eat.
Best time to get married: April-June
Wedding Venue Ideas: The 12th-century Villa Cimbrone in Ravello is an iconic wedding hotel. If you want to get married in historic Positano, check out the Hotel Palazzo Murat – who wouldn't want to get married in a converted palace? – or for a private villa, we like Villa Eva in Ravello.
Lombardia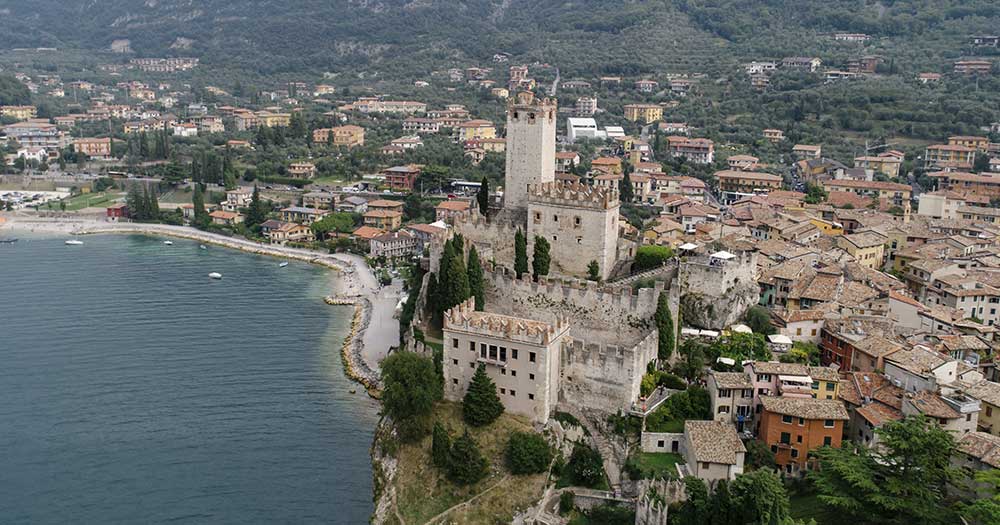 Italian lakes make a stunning backdrop for a wedding. Lake Garda and Lake Como are the most popular, but check out some of the others, such as Lake Iseo and Lago di Ledro. As with all Italian celebrations, food will be the focus, so your guests will have a treat at their wedding breakfast time.
When to get married: April-June and September-October
Wedding Venue Ideas: Villa Balbianello is beautiful, surrounded by water and beautifully manicured gardens. For high-end glamour, check out the Grand Hotel Tremezzo, or for boho vibes, try L'Albereta.
Puglia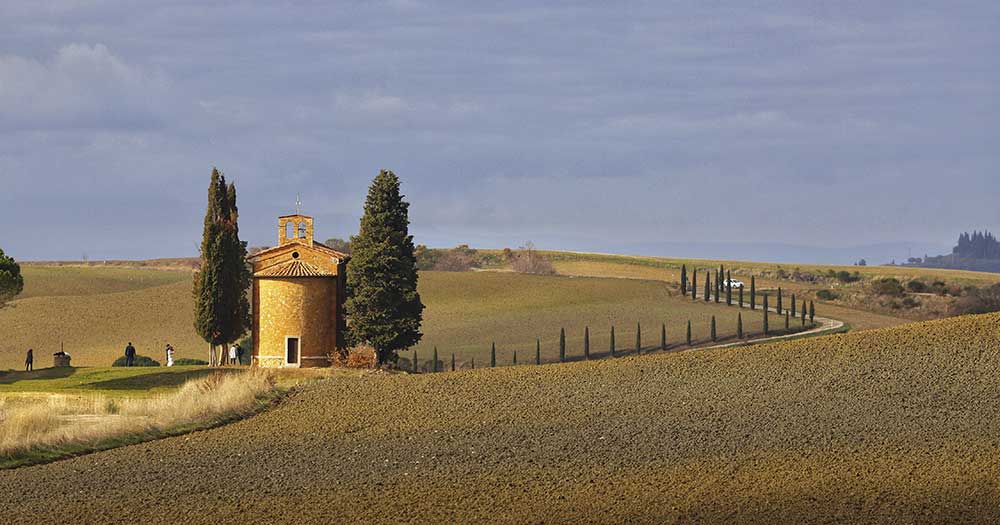 It's not entirely off the beaten path, but Puglia is certainly a less obvious choice for an Italian wedding than Tuscany or the Amalfi Coast — but the area is just as beautiful. Think of an enchantingly beautiful landscape, beautiful beaches and delicious regional cuisine.
When to get married: May-June and September
Wedding Venue Ideas: The regal resort meets rustic Borgo Egnazia is where Justin Timberlake and Jessica Biel got married – and we can see why, from the limestone architecture to the serene spa for some pre-wedding pampering. Villa San Martino is another charming space, with a private park, or for historic charm, try the medieval fortress Torre Del Parco.
Sicilia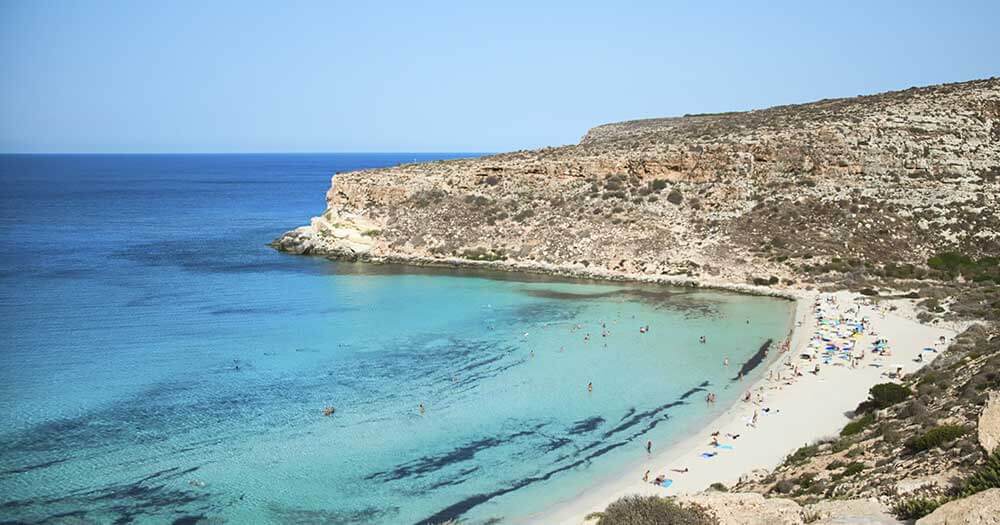 This Mediterranean island is known for fabulous food, stunning views of sandy beaches surrounded by mountains and delicious wine – elements that help make a wedding to remember!
When to get married: April-June and September-October
Wedding Venue Ideas: Eco-certified retreat Monaci Delle Terre Nere is a rustic, chic boutique on the slopes of Mount Etna, surrounded by vineyards and olive groves. Villa La Limonaia has a sense of grandeur, while La Tonnara di Marzamemi is ideal for a warehouse-style wedding.
Venice
No matter how many photos you've seen, nothing can prepare you for the first time you see Venice with your own eyes. It is, quite simply, magical – and your wedding backdrop should be nothing less. Ignore anything you've heard about the food not being as good as the rest of Italy. Having been, we can confirm that you can enjoy a magnificent wedding breakfast, which should include some traditional Cicchetti, and Venetian antipasti.
When to get married: March-April and September-November
Wedding Venue Ideas: Belmond Hotel Cipriani is rightly known, for Michelin-starred restaurants, magnificent lagoon views and sumptuous interiors. We also like the glamorous San Clemente Palace Kempinski, situated on a private island, and the historic Luna Hotel Baglioni.
3 – FRANCE
Var
Provence is famous for its quaint villages, sunny weather, excellent wine – and of course those amazing lavender fields. It's a perfect area to choose if you want a country wedding in an atmospheric castle. But it can get a little crowded in the high season, so you need to choose your area carefully. Var is not entirely off the beaten path, but it is considerably quieter than the more well-known places in the region and has sublime scenery and beautiful beaches.
When to get married: March-May and September-November to avoid the crowds; early July to see the lavender
Wedding Venue Suggestions: Terre Blanche is a superb hotel, with the most beautiful gardens for an outdoor celebration, facilities such as a spa and two swimming pools, and impeccable service. If you prefer a private home, you'll be spoiled for choice, like the Château de Robernier, which has become a fixture on Insta's most stylish feeds for a reason – it's charming – and the delightful Château des Demoiselles.
Côte d'Azur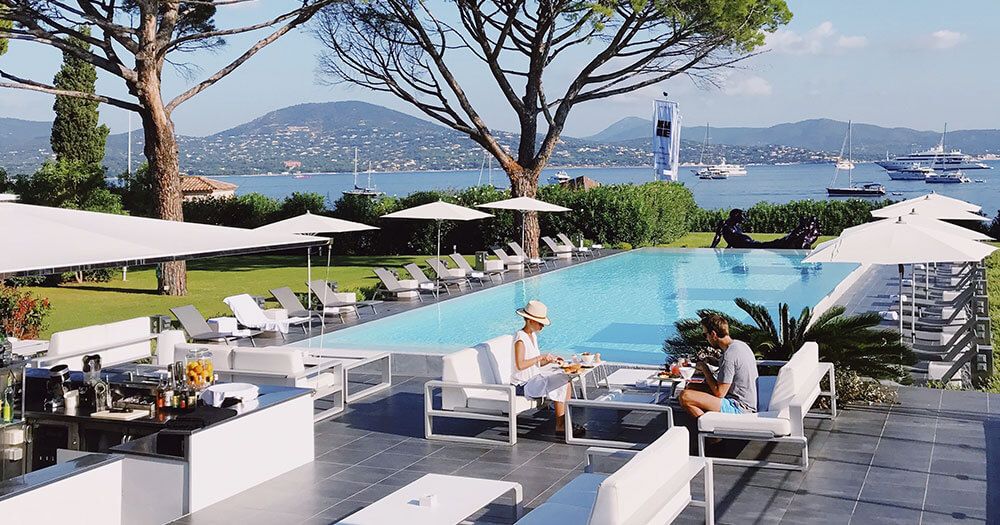 Also known as the French Riviera, this area has had jet-set appeal since the 1960s. It's easy to see why given the beauty of the surroundings – and the wealth of luxury resorts that have sprung up within them. The Côte d'Azur will never be a budget option, but if your dream is a wedding day full of French glamour, this is the place for you.
When to marry: May-June, September-October
Wedding Venue Ideas: Villa Ephrussi de Rothschild has stunning views, palatial interiors, and a secluded location — basically, it's an A-list paradise. Located in Vence, Chateau Saint-Martin is a wonderfully peaceful retreat with excellent facilities, including private villas for families. Chevre d'Or beauty boutique has a sublime terrace for wedding ceremonies.
Paris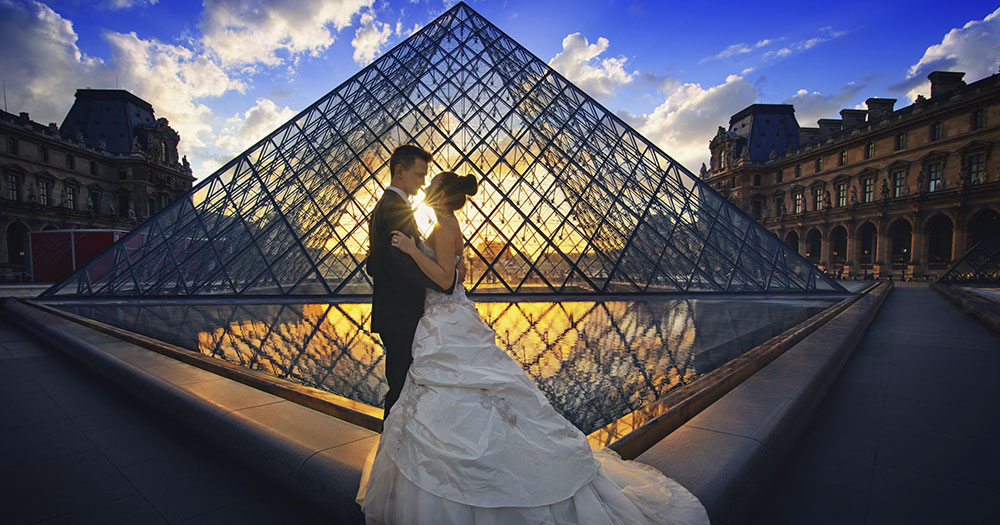 What destination wedding venues edition would be complete without the city of love? Start your champagne wedding adventure in Searcys at St Pancras station, before boarding the Eurostar. You'll find plenty of fabulous restaurants for a pre-wedding welcome dinner with your guests – we particularly like the boho Marais neighbourhood for a night out – before a wedding the next day is filled with more fine dining and of course wine.
When to get married: April-June and September-October
Wedding Venue Ideas: The Shangri-La Hotel is as suitable for an intimate celebration as it is for a larger guest list, with a variety of glamorous spaces. The hotel overlooks the Eiffel Tower and the Seine, making it a perfectly Parisian location. We also like the sophistication of Le Bristol and the funky, contemporary event spaces of Les Bains.
4 – TURKEY, Costa Turquesa
Turkey's glorious Turquoise Coast has seen a true renaissance in recent years, with deliciously stylish resorts, chic bars and must-see restaurants growing in number. The beaches are first class, but what sets the area apart is the rich history and culture – if you try to compile a list of suggested activities for your guests, you'll find more than enough options! There are several beautiful venues here for a destination wedding, Oludeniz and Bodrum among them, and we've long had a soft spot for the refined town of Göcek. A favourite with the yachting crowd, it's laid-back luxury all the way.
When to get married: April-June and September-October
Wedding Venue Suggestions: D-Resort Göcek is a hip, contemporary paradise, with a gorgeous spa and dramatic mountain scenery—and its private beach. The adults-only Rixos Premium is also quite lovely, and the Mandarin Oriental Bodrum is a luxury.
5 – CROATIA
Ístria
There's something magical about Croatia's coast, and that's particularly true in the peninsula's northwest. We're talking shimmering blue water, quaint seaside towns and breathtaking views. Yes, the beaches are rocky rather than sandy, but the upside is that it's not as firmly on the tourist radar as some other locations. The area is known for its excellent food and wine – it was an Istrian restaurant that won the country's first Michelin star. Aside from a few gourmet indulgences, there's plenty to keep your guests entertained if they choose to stay for a few days, from visits to quaint medieval towns to water sports.
Best time to get married: March-June and September
Wedding Venue Ideas: With an idyllic setting amid olive groves and vineyards, the Menghetti Wine Hotel and Winery is a wonderful option for a sense of escape. The islands off the coast are also great for an atmospheric wedding – check out St Andrews Island and Maskin Island. It is also worth looking for a private villa such as Villa Poropati or Villa Sancta Maria.
Split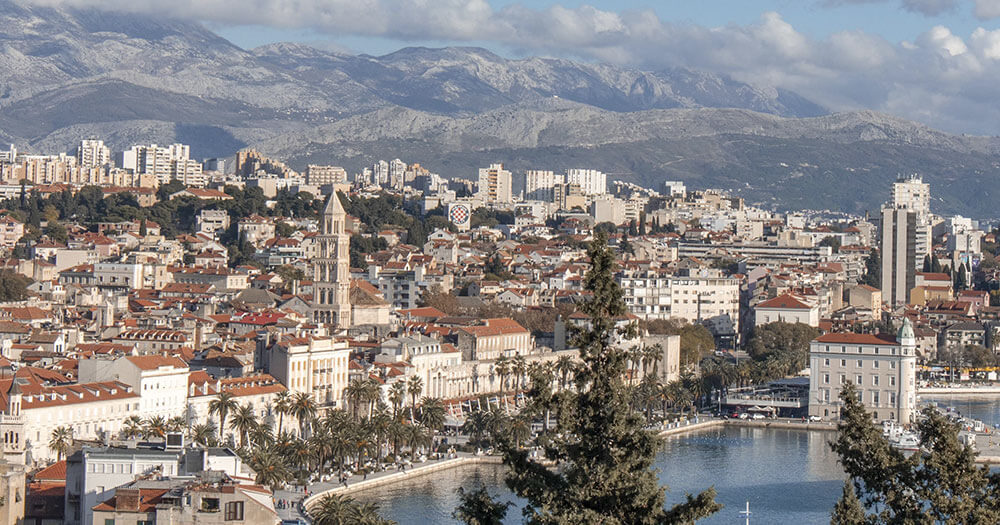 The lively coastal city of Split has a big personality, combining historic architecture, vibrant nightlife and laid-back beach culture. It's also an easy starting point for some island tours, so guests have plenty to do.
When to get married: May-June and September-October
Wedding Venue Ideas: Villa Dalmacija is a historic gem that has the perfect facilities for a destination wedding. There's a private beach, walled garden and outdoor terrace – what more do you need? The Dvor restaurant is an excellent choice for a smaller guest list, with two private terraces.
6 – GREECE, Santorini
This Greek island is famous for its beauty, from the stunning sea views to the iconic whitewashed houses and volcanic black sand beaches. Yes, it's firmly on the travel radar, but if you choose your resort wisely — and travel outside of school holidays — you can still get an exclusive, away-from-it-all vibe.
When to get married: April-May and September-November
Wedding Venue Ideas: Grace Hotel Santorini is an oasis of bliss, perched on top of a cliff overlooking the Aegean Sea. Le Ciel is also worth a look, for its beautiful views, or the restored village of El Viento Windmill.
7 – SPAIN, Marbella
Let go of any preconceptions you may have of Marbella, courtesy of TOWIE. Yes, this Spanish coastal town has a bright side, but you'll also find upscale resorts, fine dining, and a charming Old Town. If you're looking for short-distance sunshine for your overseas wedding, this is a great location.
When to get married: June-September or May and September-October to avoid the crowds
Wedding Venue Ideas: Perched on a cliff above the Bay of Palma de Mallorca, the converted Cap Rocat fortress is chic and full of character, with beautiful rooms and a must-see infinity pool. There's a Nikki Beach outpost if you're looking for something lively, or for a glamorous party, try Villa Del Mar at the Marbella Club Hotel.
8 – INDONESIA, Bali
This is truly an island paradise, with landscapes encompassing breathtaking beaches, towering mountains and verdant rice terraces. There's plenty to explore too, from bustling markets to temples. Compared to other long-haul destinations, prices are reasonable, so you can have the luxury for less when it comes to your wedding.
When to get married: May-June and September
Wedding Venue Ideas: Situated on Seminyak Beach, The Legian is the perfect tropical getaway, with stylish accommodations – for extra privacy, choose a villa – and glorious views of the Indian Ocean. They cater for both large and small weddings.
9 – Granada and Antígua
Granada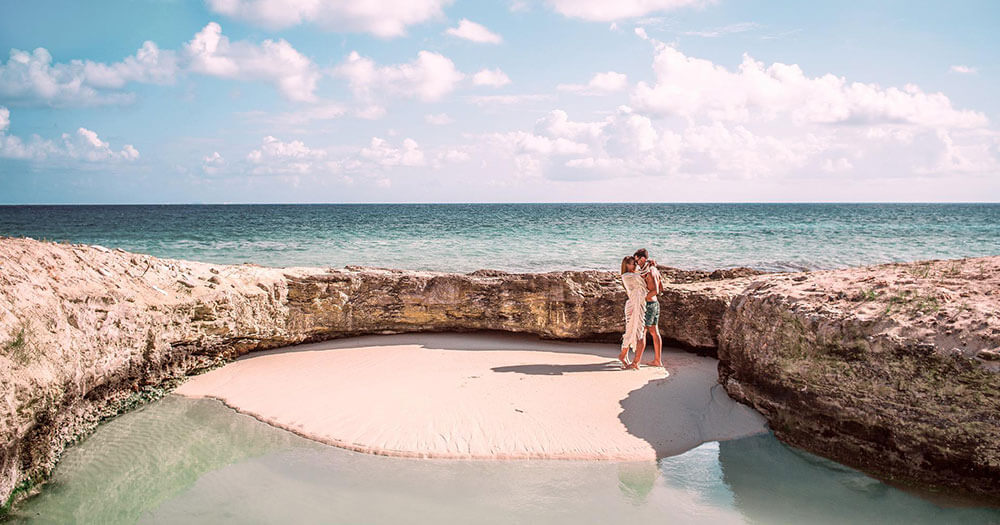 Known as Spice Island, this Caribbean gem has such a magical atmosphere. The minute your bare toes sink into one of the soft sandy beaches, you'll feel all the stress of everyday life melt away – and that's the exact mood we'd like you to be in for your wedding. Tourism was encouraged with the lightest of touches. You certainly won't be alone on your visit, and there are some fantastic resorts, but you won't see any kind of overdevelopment.
When to get married: December-May
Wedding Venue Suggestions: Silversands Grenada has a real sense of style. Designed to blend in with the naturally beautiful surroundings — overlooking Grand Anse Beach — this property also has touches of luxury, including a pool that demands a spot on your Insta grill. The Spice Island Beach resort is also a great choice, and Petite Anse is perfect for seclusion.
Antígua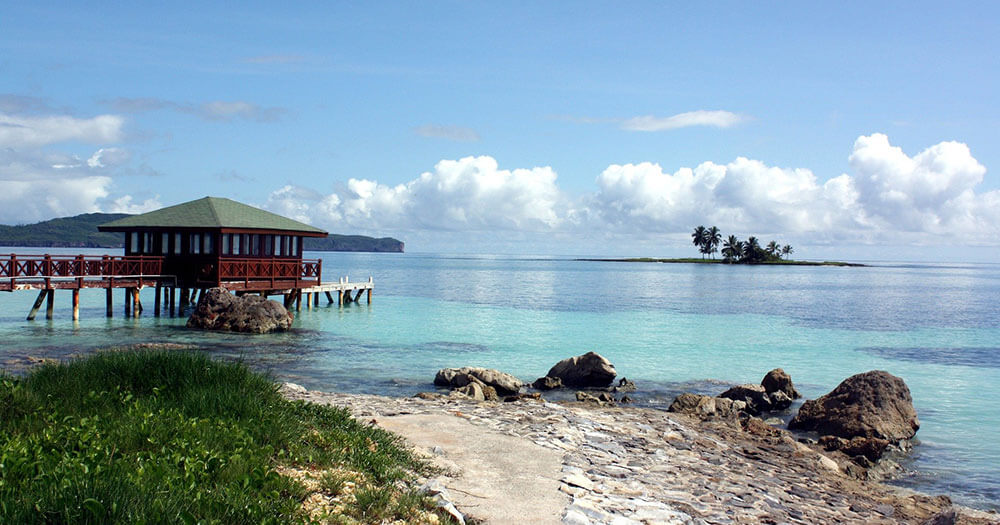 If you're looking for an island paradise, Antigua certainly fits the bill. Tropical flowers, verdant mountains and, of course, pristine beaches – it's hard to imagine a more beautiful setting for a destination wedding. This Caribbean island is also home to some truly amazing resorts that are ideal for lovers of luxury.
When to go: December-April
Wedding Venue Ideas: Blue Waters is an idyllic resort with some lovely wedding venues. The Inn at English Harbor has a relaxed atmosphere and service famous in the Caribbean. Situated on the tropical hillside, Sugar Ridge is an indulgent retreat with a sense of privacy.
10 – BRAZIL
A trip to Brazil can mean many different things: a glamorous stay in the city of Rio de Janeiro; horseback riding on the Gaúcha Trail; rainforest walks; relaxation on a beautiful beach. Have a fun-filled wedding here – if Rio's Carnival has taught us anything, it's that this is a country that knows how to party – and follow it up with an adventure-filled honeymoon.
When to marry: November-March, although this varies considerably depending on the exact destination within the country
Wedding Ideas: Located in São Paulo, Palácio Tangará is an elegantly restored palace with chic interiors. Even though it's in the city, the hotel is surrounded by a tropical park, so it feels like a romantic getaway. In Rio, Belmond Copacabana Palace is a great Art Deco event overlooking the beach.
What is the best place for an abroad wedding?
That depends on your likes and dislikes and where your priorities lie. The first decision is a long or short distance. If you want to get married somewhere with a longer flight time, this can have an impact on the size of your wedding, so it's probably not the right choice for anyone expecting a big party. Once you've decided on this, consider the following elements:
Where did you spend your most enjoyable vacation? Consider the type of location you usually choose for getaways: are you drawn to the countryside, city, sea or mountains?
Is there somewhere you two have always dreamed of visiting?
You can combine your wedding with your honeymoon.
Is there a type of cuisine that you both love? After all, food is a fundamental part of any wedding.
What is your budget?
Consider affordability – are there many flights at an affordable price? If you are thinking of getting married in the middle of nowhere, what would you do about accommodation?
Do you want your wedding to be family-friendly or just for adults?
In which season do you want to get married?
Do you want a popular location where you can get all-inclusive wedding packages or somewhere off the beaten path?
How important is it for you to legally marry in your chosen location? In some countries, the legal requirements for marriage are too complicated to navigate, so you may find it easier to have a civil ceremony in your country and a blessing abroad.
If you need a wedding planner in Portugal, you can book a Premium one on one meeting with us to discuss your wedding in Portugal.