Bridal & Groom Apparel
Wedding Bridal & Groom Apparel Services
About Wedding Bridal & Groom Apparel
We are prepared to organize your wedding as you always envisioned it.
The Groom
When it comes to wedding day attire for grooms, many times, not much thought is placed on what they will wear. Grooms are sometimes expected to "keep with tradition," and wear a suit or tuxedo in a neutral shade of black, blue, grey, or white. Accessories are usually also kept minimal, with maybe some grooms opting to incorporate colorful pocket squares, socks, or a tie—but personalizing a groom's suit is often overlooked and not always encouraged.
Luckily, times are changing, and grooms are exercising more freedom over what they want to wear. As large-scale weddings quickly return, grooms are not only taking control of their attire but are also infusing their style into their looks, dressing how they feel most comfortable with no regret.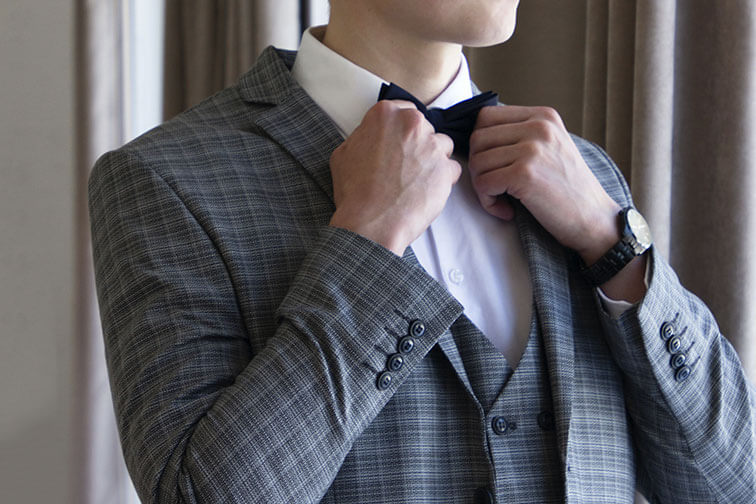 For the Color-Inspired Groom
Color can be the easiest and quickest way to infuse your personality into your wedding day look. "Colorful suits are a trend, particularly blue in brighter and peri shades as well as pastels for the summer.
How to Incorporate Wedding Colors into Grooms and Groomsmen Outfits:
For Grooms Who Don't Like Suits. We get it, suits aren't for everyone, but before you decide to forgo wearing formal attire, be sure you're aligned with the dress code of your event, your venue locale, and your partner.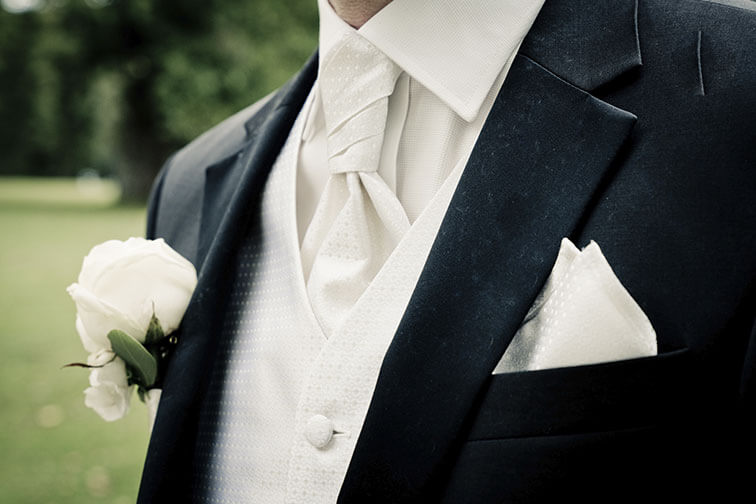 Sticking with tradition is never a bad thing! If your style tends to veer more conventional, dressing for your wedding will be that much easier, and even if you choose to go the classic route, there are still a few ways to personalize your day-of look.
You cannot go wrong with a classic tux or sharp suit. These are tried and true staples that will never look out of place for your formal event, but that doesn't mean you can't experiment within your comfort zone. Those looking to stick with a classic suit might consider a three-piece suit.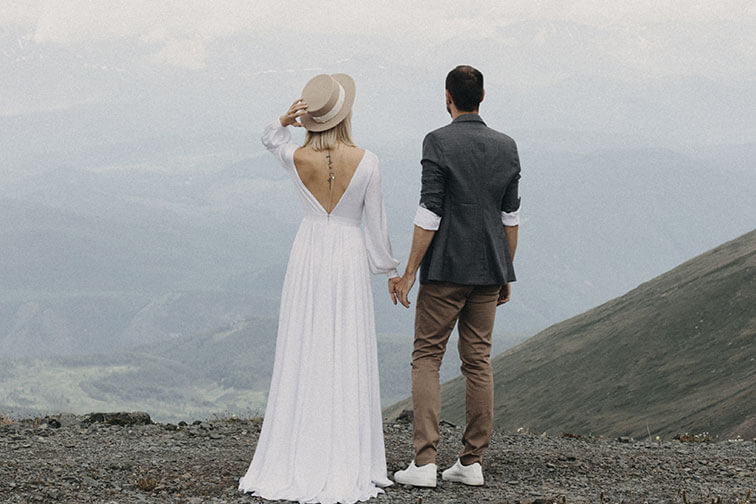 Casual does not have to equal informal. There are many grooms who want to look their best without feeling stuffy and uneasy in a suit. If this sounds like you, always remember that you never have to sacrifice comfort for style.
Depending on the dress code, you can also opt to ditch the tie, rock a pair of sneakers, or forego wearing a suit jacket altogether, in order to keep a casual, but elevated, sense of style.
The Bride
Whether you've been dreaming of your wedding dress since you were five and know the exact specifications you want for it down to the last sequin, or you've never thought about it…
Finding your dream gown can be stressful. After all, you've likely never tried one on before, and it's the most expensive garment many women will ever own, so it can feel like the pressure is definitely on while wedding dress shopping.
No matter your budget, personal style, or timeline, these wedding dress shopping tips are guaranteed to help you find the gown of your dreams.
Do research to find what you like, rip pages out of magazines, click through bridal boutiques online, and check out what celebrity brides are wearing to compile a visual file of your favourite dresses. Then look for a connecting theme—are they all very embellished, lacy, or voluminous? Do they all have open backs? Find a couple of commonalities of styles you like and bring your ideas to your first appointment.
Be Open:
Bridal consultants will tell you that they constantly see women come in with a set idea of what they want for a gown, then try it on and don't actually love it—and instead, fall for something completely different they'd never considered. Keep an open mind while wedding dress shopping. You may find your dream dress that you didn't know would be your dream dress.
At one point in time, virtually every wedding dress style had a long, flowing train that would follow the bride as she walked down the aisle. These days, many women are opting for shorter trains (or foregoing them all together for higher or more form-fitting cuts). If you're leaning towards the more traditional look of a train, you'll need to know the best way to navigate around your ceremony and reception while trailing all that extra fabric behind you.
Whether you want to feel classic, vintage, and comfortable, or romantic, glamorous, and beautiful, go into wedding dress shopping with a clear vision of how you want to look on the big day. Choosing three specific words to describe your vibe can help narrow down your dress selections.
It's easy, especially for people-pleasing brides, to bend at the moment to what gown your mom, sister, or maid of honour loves on you. But it's crucial that you go with what you love and what feels like your dream dress, regardless of other people's expectations.
For a true testament to how you'll look in your wedding dress on the big day, have a friend or family member take pictures and videos of you while trying dresses on. Make sure that they capture all angles of each dress you're considering, from the back and sides to shots of you sitting down in the gown from the top-up.
Now that you've found your dream gown, stop shopping—it will make you nuts if you keep looking at dresses. Yours is great! Now just look forward to showing everyone on the big day.
Choose Your Package
With us, your wedding will be as magical as you always dreamed of!
Ask for a Budget for your Dream Wedding for free and without any Commitment.
Free Budget For Your Perfect Wedding Day
Ask Without Any Commitment Or Obligation
Ask Any Questions About Our Wedding Services
Get A Response Within 72 Hours Maximum
The Best Wedding Planner To Help You In Your Day
Private Wedding Planner Meeting
Organise your Wedding FREE of Commissions. Pay directly to the suppliers of your choice. Book a private meeting with Our Professional Wedding Planner for Priority Service.
In Person Or Online Private Meeting With Our Professional Wedding Planner
1 Hour to Explain your needs and Ask Anything About Your Wedding Day
Supply Of 3 Options And Contacts For Each Service
Get A Full List of 3 Direct Contacts for each Service Within 24 Hours
Portugal Perfect Wedding
If You Want To Secure Your Dream Date, Don't Waste Time!
When it comes to marriage, each idea is more spectacular than the last, so it's only natural to get lost along the way. We are here to be your personal organizer, filter ideas, suggest the best suppliers, and materialize all the details.
Ask For A Budget
Book A Meeting