Accommodation
Wedding Accommodation Services
About Accommodation
We are prepared to organize your wedding as you always envisioned it.
Whether you're getting married close to home or at a destination party, you're sure to have plenty of guests travelling for the big day. Before suggesting hotels or booking a stay, consider these six points to ensure the accommodations you select work for everyone.
Search and the minimum number of rooms required:
While guests will likely book their own rooms, you should try to get a rough idea of ​​how many people will need a place to stay before considering your options. Some wedding venues include accommodation, especially if you're getting married at a hotel, while others don't have on-site accommodations. In either case, you'll need to get an idea of ​​how many people will be staying the night before and after the event. Do a search to check availability and the best conditions before booking rooms.
What kind of accommodations will guests want:
Are your guests looking to turn your wedding into an excuse for a vacation? Find out what type of accommodation your guests are likely to want. If you're getting married somewhere tropical, you might want to look for resorts with beach and pool access, some have family packages with an All-Inclusive option. If you're getting married in a big city, find affordable hotel options or rentals from Alojamneto Local. Always give your guests the option to choose.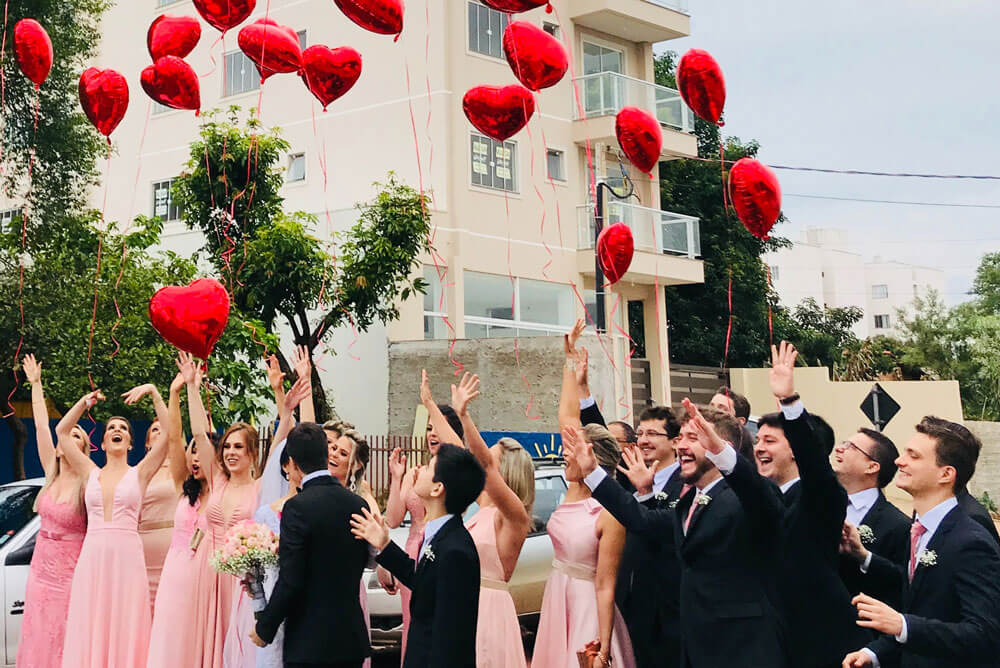 Block multiple rooms, even one floor just for the event:
If you are getting married in a location with a limited number of accommodations, these rooms will likely be available to your guests. With that being said, rooms at the venue are usually reserved for the bride and groom, their parents and wedding VIPs. For the rest of your guests, you'll want to look at a block of rooms at a nearby hotel or even if possible the same hotel where the Bride and Groom will be staying. While some wedding attendees choose to find their own place to stay, offering options (especially at a discount) is seen as a thoughtful gesture.
Check-in and check-out times:
Does your check-in time conflict with the ceremony start time? Consider finding other arrangements or negotiating an early check-in, if applicable. If you are looking for private homes, please discuss an early arrival time with the owner. No matter what, you want to give your guests a few hours to comfortably unpack and prepare before you show up at your venue. Likewise, inquire about check-out times. If all of your guests are attending a post-wedding brunch, make sure your loved ones have time to prepare before checking out. All this care is very important for the reception of your guests.
The fine print:
If you're booking hotel rooms or coordinating housing rentals, be sure to read your contracts carefully. Many stays require prepayment, often requiring a deposit, and the couple must pay (in part or in full) for the rooms. Open hotel rooms offer more flexibility, but generally allow only a few rooms to be booked at one time. No matter what type of accommodation you are arranging for your guests, always ask about terms and conditions first and make sure you understand the hotel's or owner's policy on cancellations, deposits, late bookings and other restrictions.
Choose Your Package
With us, your wedding will be as magical as you always dreamed of!
Ask for a Budget for your Dream Wedding for free and without any Commitment.
Free Budget For Your Perfect Wedding Day
Ask Without Any Commitment Or Obligation
Ask Any Questions About Our Wedding Services
Get A Response Within 72 Hours Maximum
The Best Wedding Planner To Help You In Your Day
Private Wedding Planner Meeting
Organise your Wedding FREE of Commissions. Pay directly to the suppliers of your choice. Book a private meeting with Our Professional Wedding Planner for Priority Service.
In Person Or Online Private Meeting With Our Professional Wedding Planner
1 Hour to Explain your needs and Ask Anything About Your Wedding Day
Supply Of 3 Options And Contacts For Each Service
Get A Full List of 3 Direct Contacts for each Service Within 24 Hours
Portugal Perfect Wedding
If You Want To Secure Your Dream Date, Don't Waste Time!
When it comes to marriage, each idea is more spectacular than the last, so it's only natural to get lost along the way. We are here to be your personal organizer, filter ideas, suggest the best suppliers, and materialize all the details.
Ask For A Budget
Book A Meeting