Hair & Makeup
Hair & Makeup Services
About Wedding Hair & Makeup
We are prepared to organize your wedding as you always envisioned it.
There are a few things you need to do before booking your wedding hair and makeup tests. First: Have a scheduled and confirmed date and location. Know when and where you are getting married. Whether it's on the beach in the heat of summer or in a ballroom in the dead of winter, it can have a big impact on the styles you'll consider.
As your big day approaches, wedding hair and makeup tests will give you an early look at how you will look on your big day. As with many other wedding details, timing your hair and makeup tests correctly is critical. You want to make sure you have time to adjust and adjust, and that you walk out of the salon feeling like a bride.
With the arrival of the big day, it all starts in the morning, excitement, and a lot of anxiety in the mix. Your big day has arrived and with it all possible and imaginary emotions. This morning you should be relaxed, excited and ready to get glamorous – and don't worry, hair and makeup appointments will be on time. The key to avoiding beauty-induced stress is knowing exactly when to do everyone's hair and makeup, making sure you have everything scheduled.
Strict schedules just don't work. Each person's hair and skin types are different, so services will take different time for each person. If you tell people that they have an appointment, they are more likely to be inflexible and start earlier or get nervous if time has passed. Instead, remind everyone that time is fluid and ask them to be available in a specific order.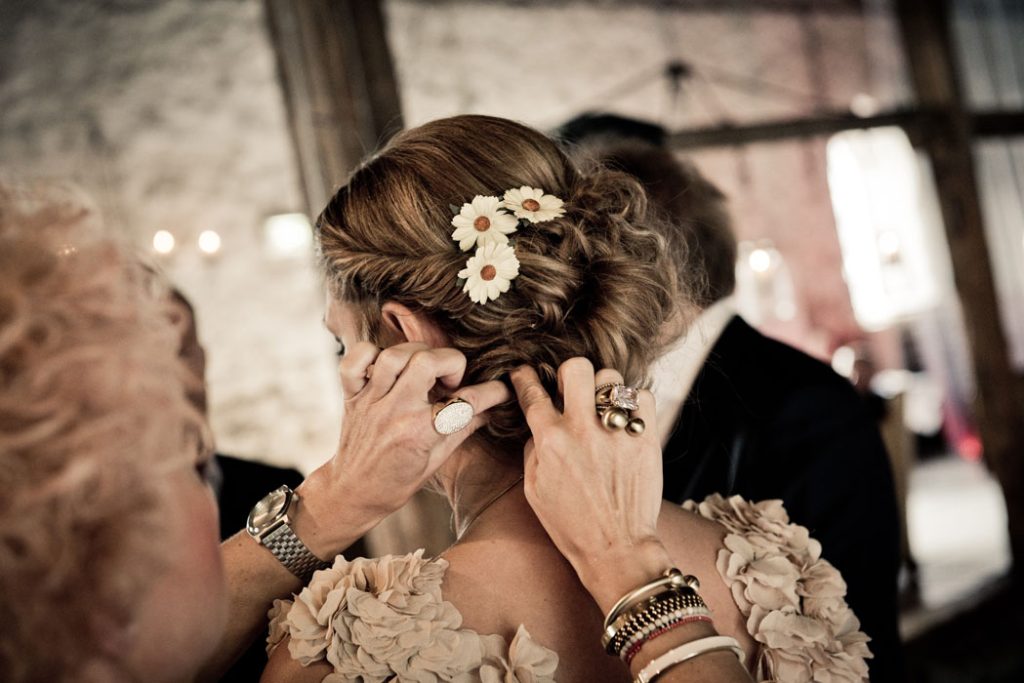 When you're deciding who goes first, make sure you're being smart about it. You should also consider preferences: bridesmaids, bridesmaids, mothers. Often the mother of the bride will want her services done earlier so that she is available to help before the ceremony.
When someone's hair is done, it's best to touch it as little as possible. So sometimes, to keep services going, we do most of the hair and then finish off the tops or fronts after makeup. Have your hair set in curls? Hop into the hairdresser's chair before moving on to makeup. That way, you can do your makeup while your hair is set and then finish your hair when you're done. It's more efficient and you won't be sitting in a chair for a long time.
If there's one thing every bride wants on the wedding morning, it's a seamless, relaxed getting-ready process. No one wants to feel rushed into their wedding dress or scooted out the door a second too early, and the best way to avoid that feeling is to create a wedding-day timeline that's realistic and generous.
Give yourself more time than less. Getting ready for your wedding shouldn't feel like a rushed ordeal. By allowing plenty of time for each person to get the individualized attention she needs, you can avoid that feeling of panic that comes when a schedule is running behind. If you're able to create a realistic wedding-morning timeline, you'll be much more relaxed heading into the day.
No wedding-day look is complete without the perfect hair and makeup to complement the dress.
Choose Your Package
With us, your wedding will be as magical as you always dreamed of!
Ask for a Budget for your Dream Wedding for free and without any Commitment.
Free Budget For Your Perfect Wedding Day
Ask Without Any Commitment Or Obligation
Ask Any Questions About Our Wedding Services
Get A Response Within 72 Hours Maximum
The Best Wedding Planner To Help You In Your Day
Private Wedding Planner Meeting
Organise your Wedding FREE of Commissions. Pay directly to the suppliers of your choice. Book a private meeting with Our Professional Wedding Planner for Priority Service.
In Person Or Online Private Meeting With Our Professional Wedding Planner
1 Hour to Explain your needs and Ask Anything About Your Wedding Day
Supply Of 3 Options And Contacts For Each Service
Get A Full List of 3 Direct Contacts for each Service Within 24 Hours
Portugal Perfect Wedding
If You Want To Secure Your Dream Date, Don't Waste Time!
When it comes to marriage, each idea is more spectacular than the last, so it's only natural to get lost along the way. We are here to be your personal organizer, filter ideas, suggest the best suppliers, and materialize all the details.
Ask For A Budget
Book A Meeting