About Us
Learn More About Portugal Perfect Wedding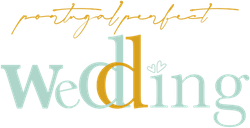 About Portugal Perfect Wedding
We are prepared to organize your wedding as you always envisioned it.
We are a team formed by a group of people with training in different areas such as Event Management, Marketing, Communication, Floral Design, Management and Human Resources and Protocol who are 100% dedicated to presenting original and unique proposals.
All our projects are personalized, always keeping in mind the identity of the bride and groom who are looking for us and what they want for their wedding.
Whether you want a traditional, intimate, fun, relaxed or formal wedding, our focus is on something we love to do: A DREAM WEDDING.
When it comes to marriage, each idea is more spectacular than the last, so it's only natural to get lost along the way. We are here to be your personal organizer, filter ideas, suggest the best suppliers, and materialize all the details.
We believe that the perfect marriage is based on three fundamental principles: transparency, trust and dialogue.
With us, your wedding will be as magical as you always dreamed of! Our team led by Yessi and Rute is at your entire disposal!
Choose Your Package
With us, your wedding will be as magical as you always dreamed of!
Ask for a Budget for your Dream Wedding for free and without any Commitment.
Free Budget For Your Perfect Wedding Day
Ask Without Any Commitment Or Obligation
Ask Any Questions About Our Wedding Services
Get A Response Within 72 Hours Maximum
The Best Wedding Planner To Help You In Your Day
Private Wedding Planner Meeting
Organise your Wedding FREE of Commissions. Pay directly to the suppliers of your choice. Book a private meeting with Our Professional Wedding Planner for Priority Service.
In Person Or Online Private Meeting With Our Professional Wedding Planner
1 Hour to Explain your needs and Ask Anything About Your Wedding Day
Supply Of 3 Options And Contacts For Each Service
Get A Full List of 3 Direct Contacts for each Service Within 24 Hours