Tradition is the cornerstone of weddings, but in a world marked by societal evolution and changing trends, the future of wedding events is also adapting to the times. As we navigate these changes, we are witnessing subtle shifts in how couples plan their special day. From minimalist elegance to intimate gatherings, there's a growing trend towards creating small and meaningful celebrations that reflect a couple's personal touch. Today, we will explore some of the upcoming wedding trends for 2024, providing inspiration and ideas for couples in the early stages of planning their dream wedding.
Highlighted Trends for 2024 in Weddings in Portugal:
Sustainability: In 2024, a paramount concern for the environment will shape wedding celebrations. Couples are increasingly committed to adopting sustainable practices throughout their wedding planning process. This commitment extends to the selection of event locations, choosing local vendors, utilizing recyclable materials, and embracing eco-friendly decorations. These conscientious choices reflect a growing awareness, often inspired by global organizations, about the importance of environmental responsibility in today's world. It's clear that sustainability is a genuine concern, and couples are eager to align their special day with these values.
Weekday Weddings: The long-standing tradition of Saturday weddings is evolving in 2024. Weekday weddings are on the rise, offering several advantages. Not only does this choice provide greater availability for vendors, but it also creates a more exclusive and relaxed atmosphere for the celebration. As couples break away from the Saturday tradition, they are embracing the flexibility and uniqueness that weekday weddings offer.
Memorable Entertainment: Weddings in 2024 are set to be captivating entertainment spectacles. Beyond the typical wedding bands or DJs, couples are investing in artistic performances, breathtaking fireworks displays, and mesmerizing dance performances to amaze and delight their guests. These creative entertainment choices aim to leave a lasting impression, ensuring that the celebration is unforgettable for everyone in attendance.
As we step into 2024, these emerging trends reflect the changing preferences of couples as they prioritize sustainability, embrace non-traditional wedding days, and curate unforgettable entertainment experiences. We hope these trends inspire you in planning the wedding of your dreams as a couple.
Weddings in 2024 will be characterized by various trends that emphasize elegance, sustainability, personalization, and meaningful celebrations. Here's an organized overview of the key trends:
Wedding Invitations and Graphic Materials (Trend 4): In 2024, wedding invitations are undergoing a transformation, embracing personalization, elegance, and creativity. Trends include sophisticated colour palettes, custom illustrations, and expressive typography. These invitations aim not only to inform but also to evoke emotions and anticipation for the big day. Sustainability and attention to detail are also prominent, celebrating each couple's uniqueness and love.
Catering (Trend 5): Wedding catering in 2024 focuses on providing memorable culinary experiences. This includes customized menus, the use of local and seasonal ingredients, diverse food options, and creative presentations. Couples prioritise originality and personalization, making food a central element of the celebration that engages all the senses. Culinary excellence and attention to detail ensure that wedding catering in 2024 is a celebration of gastronomy and love.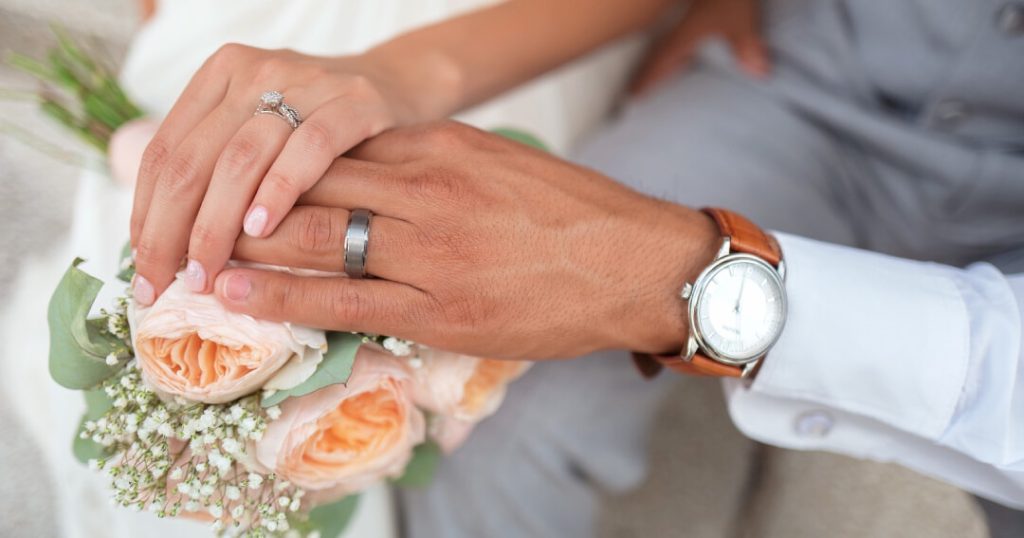 Wedding Formats for 2024: Several wedding formats are expected to be popular in 2024:
Destination Wedding: These weddings are held in a different city, state, or country with a smaller number of guests. Extensive planning is required to accommodate not only the couple but also their guests who need to make travel arrangements.
Mini Wedding: A small, intimate wedding with a limited number of guests. It involves a private ceremony and a careful selection of attendees. Many couples are opting for this format due to budget considerations and the desire to create an intimate and special atmosphere.
Elopement Wedding: An intimate wedding experience for a maximum of 10 people. It formalizes the love between the couple and can take place in another city or country. This format is reminiscent of eloping, where couples run away to marry, and it remains a popular choice.
In summary, weddings in 2024 will be characterized by elegance, sustainability, technology, and personalization. Couples will play an active role in society and seek authentic and meaningful ways to celebrate their love. These trends promise to create unforgettable and exciting moments for couples and their guests, leaving lasting memories. Additionally, outdoor weddings continue to be a strong trend, emphasizing a connection with nature and sustainability, but careful consideration of logistics remains essential for these events.
When it comes to weddings, a world of possibilities opens up, where everything is adaptable, and nothing is impossible. It's crucial to always prioritize love above all else, remembering that this day is truly unique.
Becoming Sustainable: Environmental consciousness is on the rise, and sustainable weddings are gaining popularity. Couples are integrating eco-friendly practices into their celebrations, including the use of biodegradable confetti, organic and locally sourced menus, and environmentally friendly wedding favours.
Customized Weddings: Weddings have evolved significantly in recent years, with couples investing in creating unique experiences for their loved ones. Personalization and enhancing the guest experience are central to the wedding trends of 2024. Couples are moving away from traditional approaches and embracing new ideas, such as personalized wedding ceremonies led by celebrants, offering the opportunity to rewrite wedding vows and focus on the overall experience.
Patterns Are Back: Patterns are making a comeback in 2024 and not just for your grandparents' home decor. From wedding invitations to table linens, incorporating patterns can add a creative and fun touch to weddings.
The wedding trends of 2024 aim to infuse excitement, creativity, and sustainability into your special day. Whether it's personalized ceremonies, sustainable practices, or playful patterns, these trends allow couples to create unique and memorable weddings that leave a lasting impression on guests and create unforgettable memories.
High-Impact Florals: In 2024, weddings are all about high-impact florals. This trend focuses on bold and dramatic floral arrangements that instantly capture attention and create a lasting impression. High impact doesn't necessarily mean large size; it's about the effect that flowers have on the overall aesthetics of the wedding. This can involve vibrant colours, unique flower varieties, or even the incorporation of metallic elements into arrangements. Brides are encouraged to embrace these high-impact florals, adding a touch of drama and luxury to their weddings for an unforgettable experience.
Wedding Planning with Tech Experience: Wedding planning is undergoing a technological upgrade in 2024. The trend is all about using technology to simplify and enhance the wedding planning process. From digital invitations and online registries to virtual venue tours and wedding planning apps, technology is revolutionizing how weddings are organized. Beyond convenience, technology can also contribute to environmentally friendly practices by reducing paper waste and promoting sustainability. Couples are encouraged to leverage technology to save time, reduce stress, and create a more personalized and interactive experience for their guests.
Sustainable Weddings: Sustainability is a growing focus in various aspects of life, including weddings. Sustainable weddings are a top trend for 2024, emphasizing a commitment to nature-friendly practices. There are numerous ways to incorporate sustainability into weddings, such as using digital invitations, selecting eco-friendly venues, and opting for locally sourced food and flowers. Another popular trend is embracing vintage or antique pieces, like dresses and rings, which not only evoke nostalgia but also reduce the demand for new products. Sustainability in weddings reflects a broader awareness of our environmental impact and a desire to celebrate love while respecting the planet.
Conclusion about trends for Wedding in Portugal in 2024
Planning a wedding may seem like a daunting task, but it's also an exciting opportunity to let your creativity shine. The top wedding trends for 2024 provide a wealth of inspiration, catering to various preferences, whether you adore bold colours, prioritize elegance, or are committed to hosting a sustainable celebration. Always keep in mind that your wedding is a celebration of your unique love story, and it should authentically reflect who you are as a couple. Whether you choose seated bride and groom parties or opt for organic-style settings, these trends revolve around the themes of personalization, sustainability, and a deep connection with nature. Embrace these trends to create a wedding day that is truly unforgettable and perfectly tailored to your love story.
Wedding in Madeira Island? Let's Plan Your Big Wedding Day! It's Going To Be Perfect!