When it comes to a Beach Wedding in Portugal, the possibilities are as endless as your imagination! One thing about beach weddings is that they give you total creative freedom, and depending on the time of day, the beach sets a different mood.
An element that shines through all beach weddings is romance.
So, are you planning to come to Portugal for your beach wedding? Let the beach set the stage for your love story and seaside ceremony.
A destination wedding is a fun way to get married and probably combine a vacation with your family and friends. If you've chosen Portugal for your destination wedding, this is an excellent choice, and you'll love your time here. If you're a sea-loving couple, it only makes sense that you would want to have your Beach Wedding in Portugal.
One worry that couples often have when it comes to beach weddings is the weather. They also worry about the crowd at the beach. In August, for example, the summer gets really hot, and the beaches in Lisbon will most likely be way too crowded. The best time to choose to avoid this is a month that is not wholly summer.
10 Exclusive Places for a Beach Wedding in Portugal – 2022
1 – Set Lounge Beach Weddings (Praia da Azurara – Vila do Conde)
Has your dream always been to get married on the beach with your feet in the sand? The Set Lounge Beach Weddings space offers you a unique opportunity to make your wish come true. Say "Yes" on this special and unique beach and guarantee beautiful moments of happiness.
Services:
The Set Lounge Beach Weddings offers the newlyweds the possibility of having a different wedding, in a magical atmosphere where the party can last until dawn. Count on a fantastic team and able to perform the following services:
Civil ceremony
Own catering
Custom decoration
Song
Localization
Set Lounge Beach Weddings is located on the sandy beach of Praia da Azurara in Vila do Conde. With a beautiful view of the Atlantic Ocean, your party will make a difference and will be a memorable event.
Praia da Azurara – Vila do Conde
Located to the south of Vila do Conde and the mouth of the Ave River, Azurara Beach begins next to a jetty that acts as a windbreak.
It's fine, white sands extend over kilometres and are flanked by a protected cordon of dunes crossed by wooden walkways to ensure access to the beach does not involve any damage to the dune environment.
The strong waves of this stretch of coastline make for some good surfing and of course, a perfect location for a beach wedding in Portugal.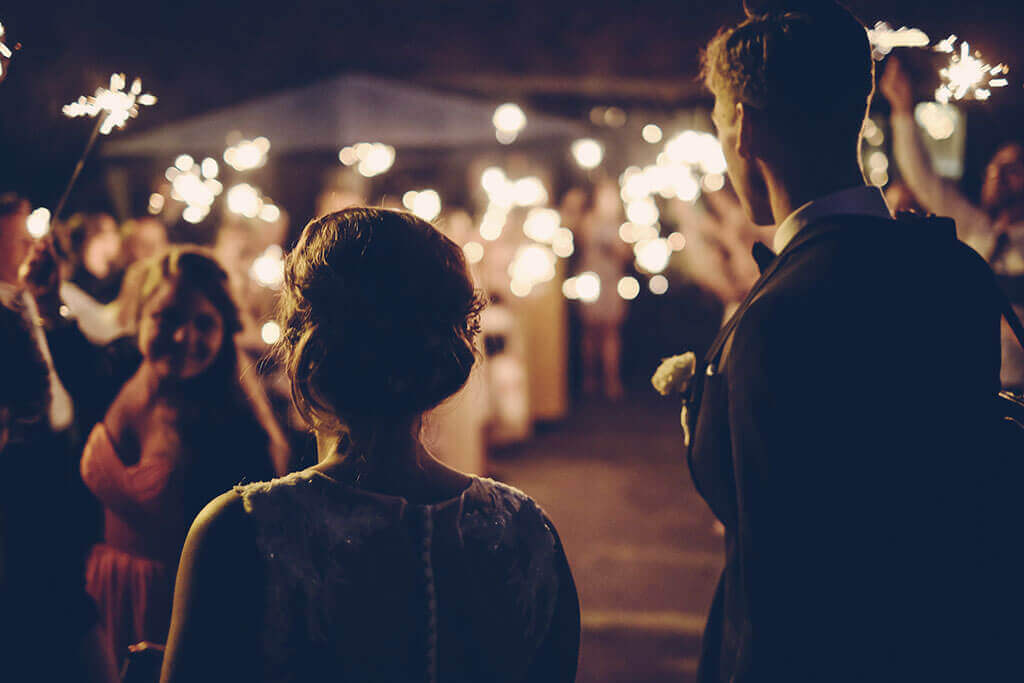 2 – Praia da Luz (Porto)
With the blue of the Atlantic and its rocky sculptures as a backdrop. In a dream setting, a bright and refined space, designed to live a day as you always dreamed, in the company of those closest to you. At night, the rocks light up with romanticism and charm that characterize the moment.
Spaces:
With a decoration marked by modern lines, it is assumed as a place that is worth not only for the space itself but also for the environment that is lived, where the main objective is for the bride and groom to feel at home, creating unforgettable moments.
From the fully air-conditioned interior room to the terrace and stage where the sky, the sea and its natural surroundings guarantee a special charm to your wedding. This space of refinement has all the necessary infrastructures for the accomplishment of an unforgettable reception.
Services:
Praia da Luz offers an exclusive and personalized service in the planning and implementation of all types of events, through a team of professionals who guarantee the highest standards of comfort, refinement and efficiency service.
With an offer of varied options from the classic Portuguese gastronomic to the most modern palates, always with a guarantee of refinement in both presentation and flavours. Celebrating each event in a unique way, its menus are adapted to all specific needs.
Localization:
Praia da Luz is located in Foz do Douro, Porto. Framed in a unique and characteristic green space, the small beach is dotted with the characteristic Atlantic rocks.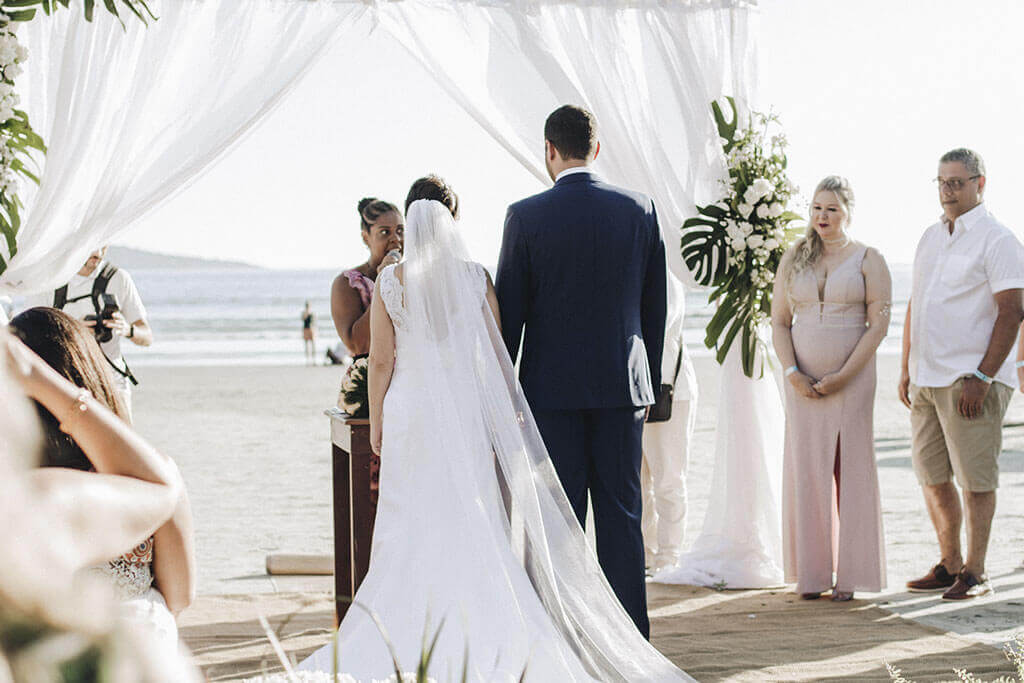 3 – Sem Espinhas Natura Beach (Castro Marim – Algarve)
Sem Espinhas Natura is the ideal place for Beach Wedding in Portugal, as it is surrounded by a vast stretch of sand, a calm sea and flanked by white sand dunes. With a wonderful landscape, it is a place of choice for the celebration of a unique and dazzling party, with a relaxed, charming and elegant atmosphere.
Spaces:
It offers a space with a capacity of 120 people, a dining room for 50 people seated, terrace for 30 people. It has direct access to the beach, a dance floor on the sand and a parking lot for 300 vehicles.
Services:
It offers the realization, organization and decoration of civil ceremonies on the beach, catering for the reception, as well as musical entertainment with saxophonists, DJs, and bands, among others. It makes personalized menus, together with the bride and groom, adapting them to their tastes and palates.
Localization:
In Algarve, it is located in Praia do Cabeço, in the municipality of Castro Marim. With easy access and a privileged location, it has an experienced team that will help you in every step of your wedding.

4 – Senhora da Guia – Cascais
Senhora da Guia is a five-star hotel complex, transmitting luxury and refinement in every detail. Offering unique views over the Atlantic Ocean and an informal and relaxed atmosphere, it is a dream space to hold your wedding reception.
Spaces and capacity:
Dividing its rooms into classics, superiors and suites, all are fully equipped and prepared to meet the needs of its guests. Senhora da Guia also has a garden for events, a bar and restaurant with unique views and its Ocean Spa.
Services it offers:
Specialists in organizing weddings for up to 80 people, the Senhora da Guia team is attentive to every detail of this day, from the florist, through the decoration of the space, wedding dress, rings, and hiring a hairdresser, photographer and wedding cake. It also offers the bride and grooms the following:
Possibility of hiring a limousine or classic car to transport the bride and groom:
Private car park
Appetizer in the garden
Themed menus
Animation with hiring a band or DJ
Wedding night in a suite with an ocean view and VIP treatment (includes champagne, flowers, sweets and a fruit basket in the room)
Location:
Located in Cascais, Senhora da Guia offers its newlyweds the possibility to live a unique day in their lives. As such, it offers a service fully adapted to your needs and full of refinement, so that nothing fails at this great moment.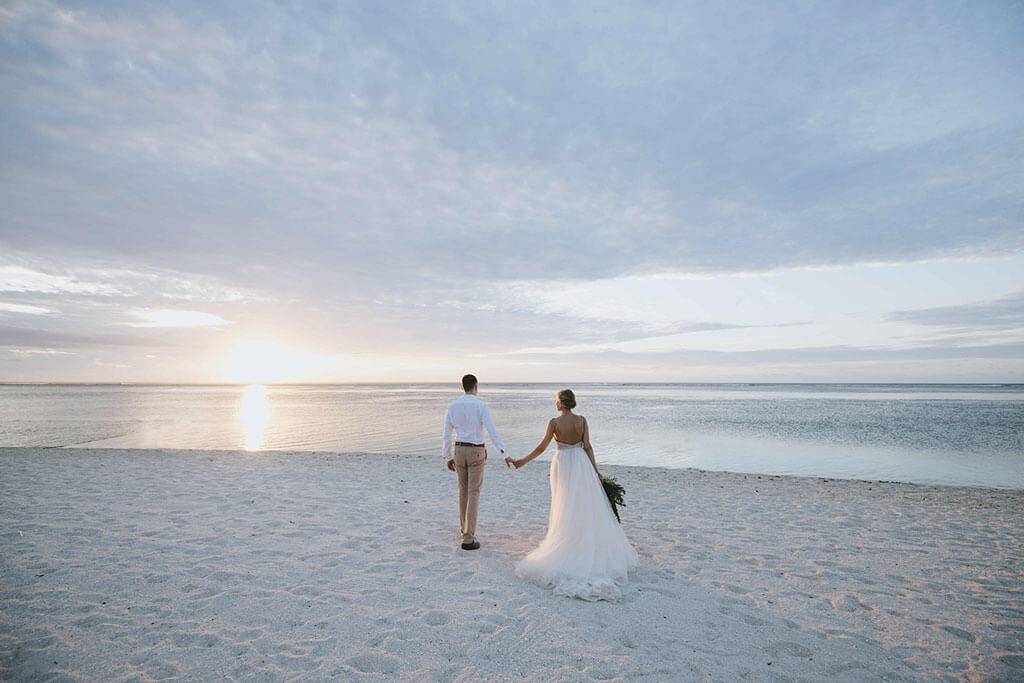 5 – Vila Vita Parc (Lagoa)
VILA VITA Parc is a 5-star resort, a member of one of the largest international luxury hotel brands – Leading Hotels of the World. The Banqueting and Events department at VILA VITA Parc has a vast team of experienced professionals ready to organize and provide exceptional service, in a magical environment where the blue of the sea and the gold of the sands scenario to make your Dream Wedding.
Spaces:
VILA VITA Parc has a considerable dimension of 22 hectares, of which 60% are green gardens that form a small and exuberant paradise in the Algarve.
Due to the extension of the Resort, it allows in one place to offer a wide range of options to carry out your wedding, starting with the offer of 4 splendid locations for the cocktail reception and 8 restaurants, including the Ocean Restaurant awarded with 2 Michelin stars, as well as other distinguished restaurants with large terraces and breathtaking views.
For weddings with many guests, the Resort also offers 1 modern Events Pavilion and 1 elegant and luxurious banquet hall. In the magnificent gardens of VILA VITA Parc, ceremonies can be held in a very romantic and emotional way.
Gastronomy:
With an award-winning catering service, Vila Vita Parc follows a strict quality standard in preparing its dishes, from the handling of ingredients to an impeccable presentation that delights the eyes. It manages to harmoniously combine different flavours, textures and aromas, providing the best in gastronomy.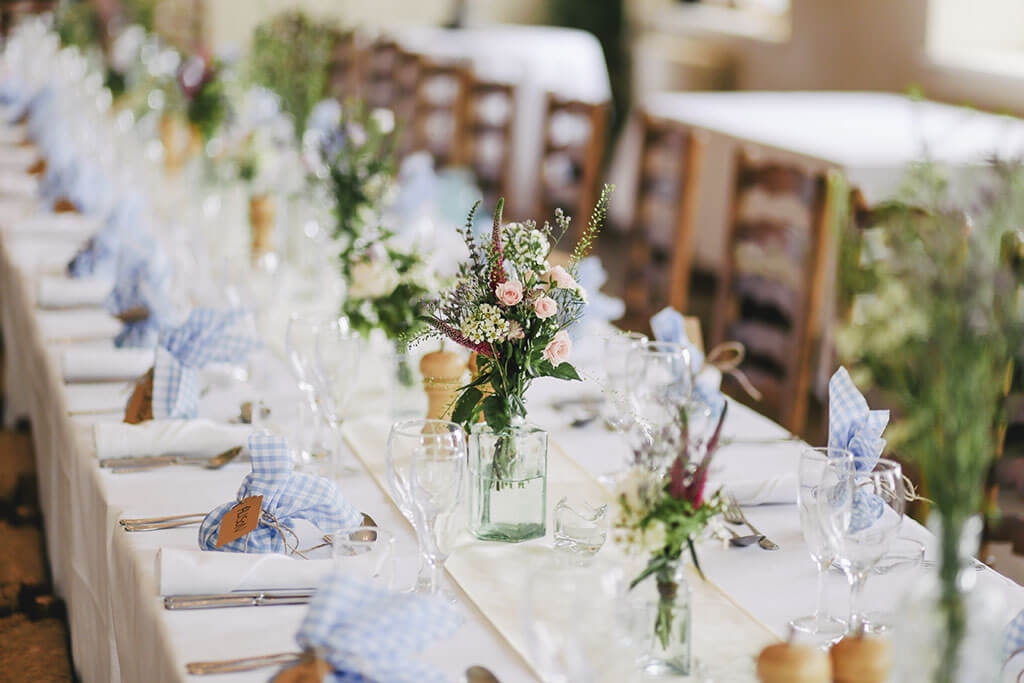 Services:
They have exclusive wedding packages at very competitive prices. These include:
One-hour cocktail
4-course menu with drinks included during dinner
Menu tasting for the bride and groom
Wedding Cake (VILA VITA Parc's standard) with cutlery suitable for cutting the cake
Accommodation for the bride and groom on their wedding night
Wedding venues/locations with no usage fee
Stage and/or dance floor (depending on location)
Chairs and tables
White towels and napkins, ghosts and elegant bows on the chairs
Flower arrangement
Candles on the tables
Signs with guest names, menus and table plan
Accommodation services
Featuring comfortable suites and wonderful room service with personalized attention, Vila Vita Parc wants to provide you with an impeccable stay so that you can have a very special wedding night.
Other services:
For moments of relaxation, Vila Vita Parc has a modern spa with a strong concept of well-being, where you can enjoy various treatments for the body and mind. It also has a luxurious 22-meter yacht that transports you to fascinating caves and paradisiacal beaches.
Localization:
Be sure to schedule a visit to get to know all the facilities and services at VILA VITA Parc up close. Easily accessible, it is located in Porches, in Lagoa, being the ideal choice to make your memorable celebration.
6 – Pine Cliffs Hotel – Albufeira – Algarve
Pine Cliffs Resort is an inspiring place, overlooking the Atlantic Ocean, where the sound of the waves travels through the green corridor that will take the bride to the altar where the groom is anxiously waiting. The hotel's design, with Algarve influences, and the vast green gardens convey a romantic and elegant atmosphere, making it a memorable setting for an unforgettable wedding.
Spaces and capacity:
It is set on 72 hectares surrounded by pine trees and large gardens, offering several perfect places for your wedding ceremony, cocktail and dinner. Jardim dos Pinheiros is a verdant sanctuary, where you will have all the privacy you want in a seductive paradise, with a touch of magic.
The Beach Club is the perfect stage for this day, with the golden sands transformed into a unique setting for your important day.
The Tabu Garden Lounge, with the gentle breeze and the aroma of the sea, is a lovely place, surrounded by green gardens and with a pine tree corridor, ideal for the bride's arrival at the altar.
For golf lovers, the Pavilion is the right place for your union, as it is located on the first tee of the golf course, with wonderful views. The Pinhal Room is a setting where the white of the room meets the green of nature, with a touch of glamour and elegance, perfect for cooler days.
The Aldar is an exotic place, ideal for newlyweds who want to get married in a Moroccan atmosphere, with a light and sound system, suitable for all types of parties.
Services it offers:
The team specializes in organizing unique weddings, taking care of all the details and offering customized packages for all styles and needs, as well as a wide variety of choices of venues for the ceremony, cocktail, dinner and party.
Other facilities:
It has four outdoor pools, a health club with an indoor pool, spa and wellness treatments, a children's village, various water sports available, a nine-hole golf course and many outdoor activities.
Location:
It is located in Albufeira, on a cliff where the magnificent blue ocean and sky landscape merges with Falésia beach, the only beach in the Algarve with a golden flag, given by the European Union. Get in touch, talk to the Pine Cliffs Hotel team and start preparing for a dream wedding.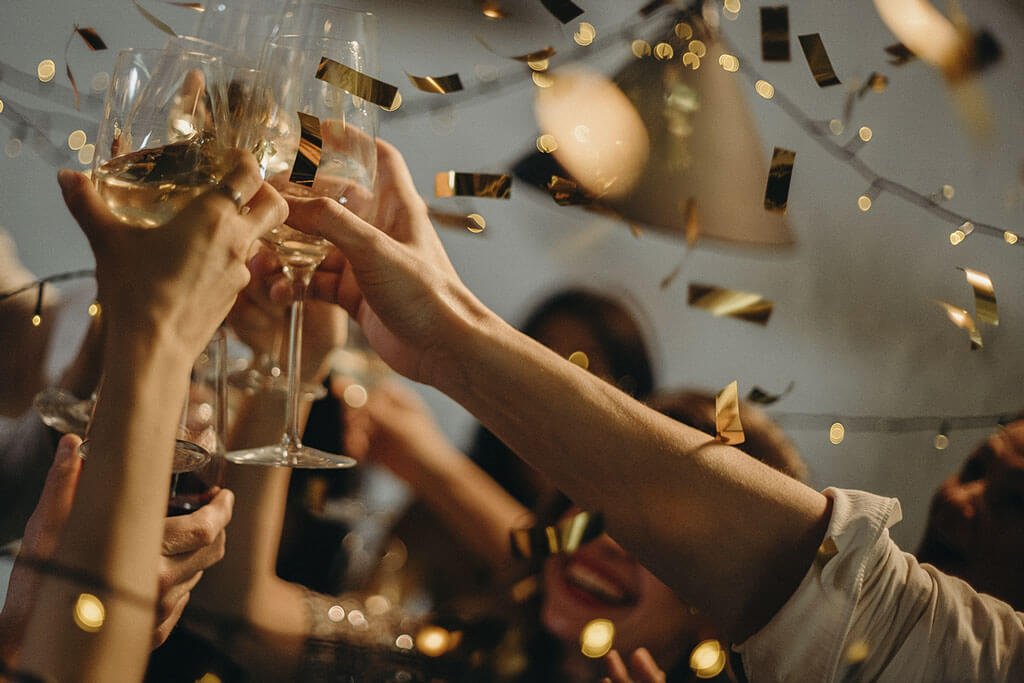 7 – Vidamar Resorts – Algarve
Vidamar Resort Hotel Algarve is a dream hotel located by the sea. It has a privileged location allowing the bride and groom, family and guests to enjoy beautiful landscapes as well as all the comfort and elegance that the occasion deserves.
Spaces and capacity:
It has an excellent infrastructure, consisting of several spaces ideal for holding a perfect wedding party, such as:
Rooms
Restaurants
Terraces
Gardens
Outdoor pools
Spa
Indoor and outdoor parking
Services it offers
They offer a wide range of essential services for the wedding, such as decoration, music and entertainment, car rental, photography, and video, among others.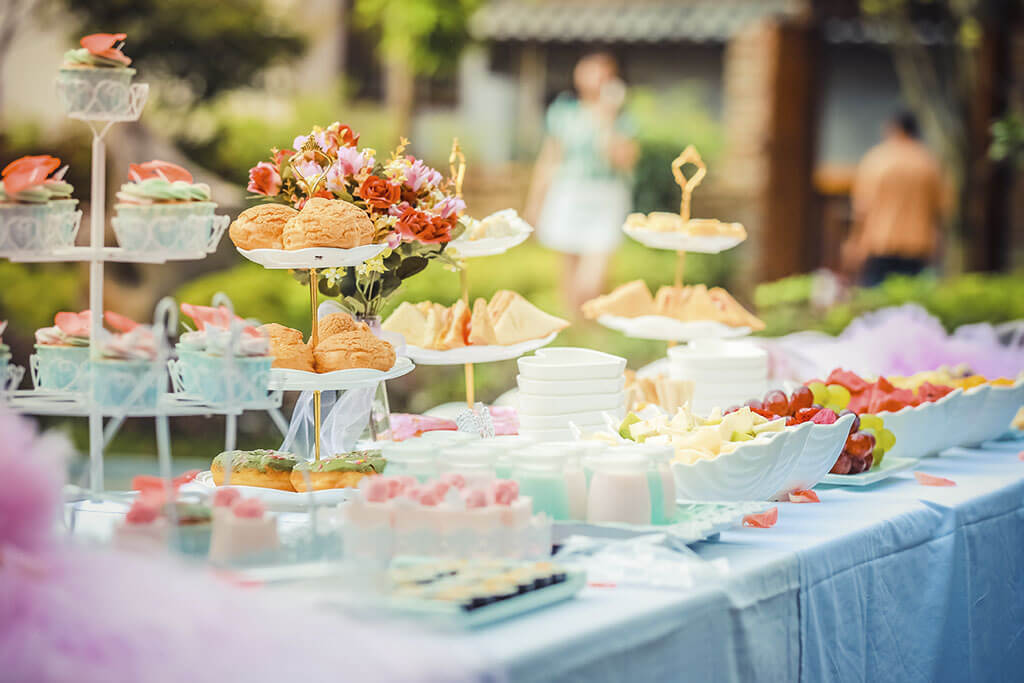 8 – Vila Baleira Porto Santo
Vila Baleira is a dream resort on a paradise island. With a fantastic and breathtaking view of the beach, it is the idyllic setting for the celebration of a day they will never forget. If you are looking for a refined, sophisticated space with an attentive and dedicated team, then this is the right option for your wedding on Madeira Island.
Spaces and capacity:
It has several rooms for the celebration of the banquet and reception, which can be used together or separately, depending on the number of guests. Direct access to the beach is perfect for newlyweds who want a ceremony with their feet in the sand.
Services it offers:
It offers catering services for the buffet, decoration of the space, interior and exterior, organization of the big day and accommodation, for the bride, groom and guests, if necessary. For the honeymoon, it has special suites so that they can spend their first night of marriage with all the glamour they deserve.
Location:
It is located in the pearl of the Atlantic Ocean, the charming island of Porto Santo, in the archipelago of Madeira. Its romantic alleys and poetic surroundings make Vila Baleira a perfect place to celebrate your wedding.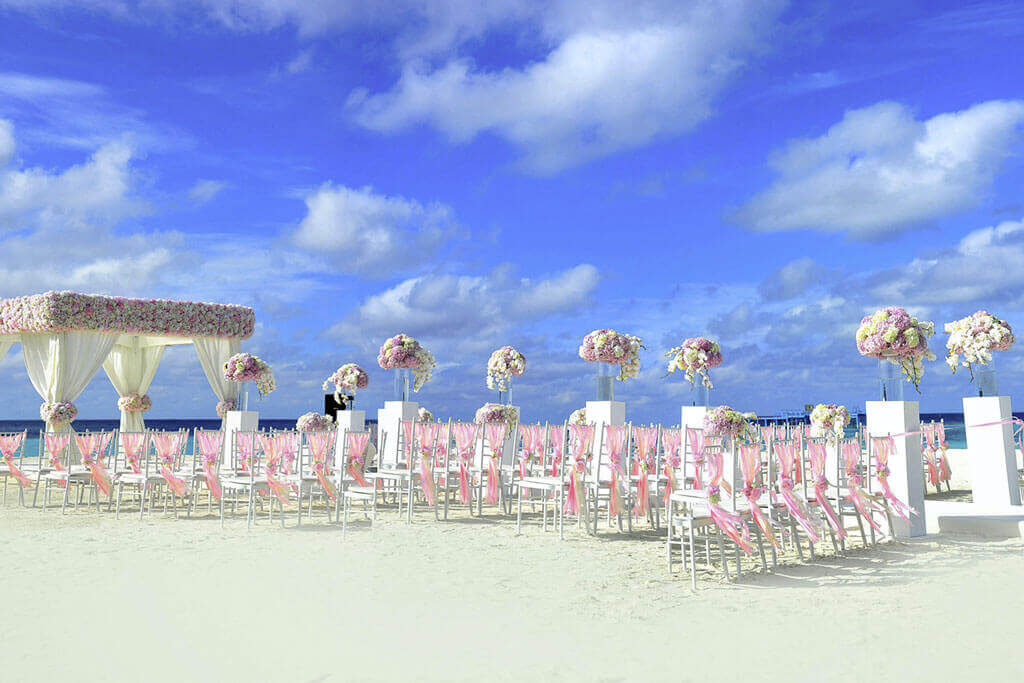 9 – Quinta do Vizo – Figueira da Foz
Favouring the realisation of personalized events and inserted in a family atmosphere, Quinta do Vizo offers its bride and groom comfortable and fully equipped facilities to live the best moments of that day. Surrounded by a charming natural environment, it also offers unique views over the beach of Figueira da Foz and the Serra da Boa Viagem. It's another great option your a beach wedding in Portugal.
Spaces and capacity:
It has 2.7 hectares and is fully wooded, with a vast flora scattered throughout the site. It has a covered space of 240 m2 with a capacity for 225 people seated, private parking and an outdoor space reserved for the celebration of civil ceremonies or wedding cocktails.
Services it offers:
The biodiversity of the area where Quinta do Vizo is located, combined with the commitment of its catering team to ensure the entire event, makes this space a unique place to celebrate the wedding. Among the main services it offers, we highlight the performance of intimate and personal weddings, in the company of those closest to us. The Quinta also holds civil and beach ceremonies, as well as country religious weddings.
Location:
It is located in Figueira da Foz. Its proximity to the beach and Serra da Boa Viagem means that it has excellent access and a unique landscape. Here you will live moments full of emotion.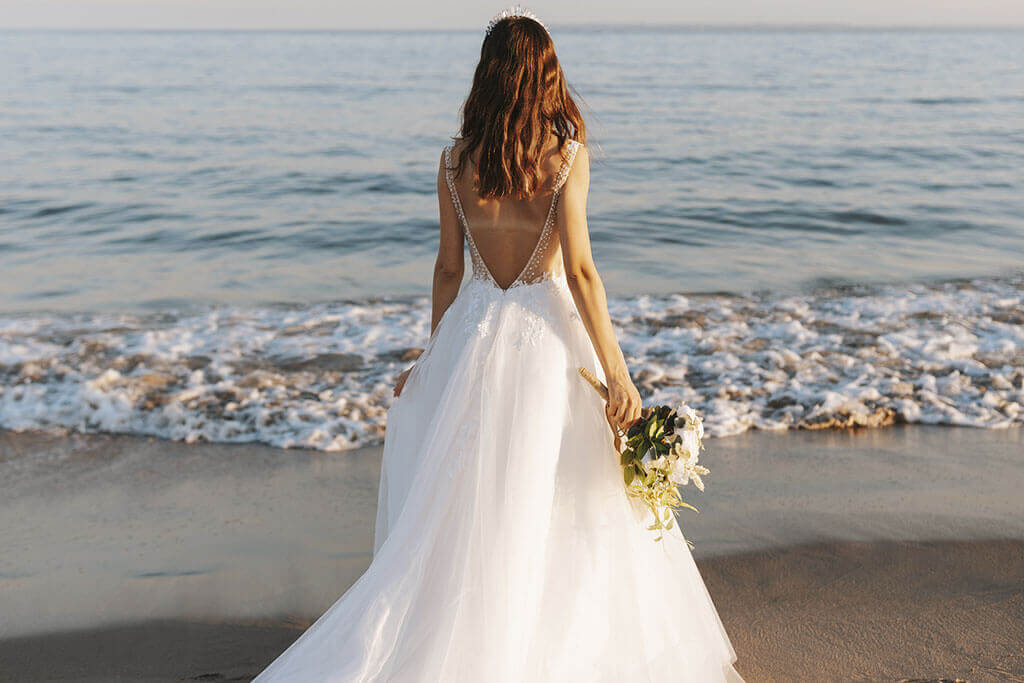 10 – Miramar Hotels – Nazaré
Miramar Hotels is the perfect place for you, who, in addition to celebrating your wedding in style, want to enjoy a totally pleasurable and deserving experience. Make this moment even more worthwhile, it's your day. Give yourself the luxury of living it to a high standard of sophistication.
Spaces and capacity:
It has six rooms specially designed to host your wedding with a high level of refinement. They can hold between 12 and 120 guests, depending on the format of the celebration. Regardless of that, they will have all the comfort and convenience needed to enjoy it in style. They are equipped with:
Projection screen
Video projector
Microphones
Sound booster speakers
AV system remote control
Portable laser pointers
Services it offers
It has a qualified workforce of a team specialized in providing quality services, which is formed by experienced professionals with good taste. They will work with serenity and commitment to make your wedding celebration a great success.
Location:
Miramar Hotels is located in the municipality of Nazaré, where it has been doing an excellent job: providing its customers with great well-being, and providing events with everything they need to be memorable.
Why a Beach Wedding is a Good Option?
One of the most obvious reasons to have a beach wedding in Portugal is a romantic setting. The ocean is the background, the sunlight beaming off the ocean waves, and the delightful sea breeze will have you and your partner in a romantic setting that will start your life of happiness together.
A beach wedding in Portugal is the perfect setting for the best day of your life.
Casual, Comfortable, and Elegant.